All our readers who religiously follow our posts must have read our recent update on the Top 5 Upcoming Mahindra SUVs of 2022 in India. Today, we shall delve into the 2-wheeler segment and break down the list of Top 5 Upcoming Electric Bikes in India 2022, that you need to keep an eye on, if you are serious riders and motorcycle enthusiasts & are planning to go electric.
The list of the Top 5 Upcoming Electric Bikes in India 2022 hitting the market goes as under:
Ultraviolette F77
The Ultraviolette F77 is one of the most exciting machines and not only that it is also India's first electric sports bike. Also, adding to the excitement is the fact that the bike is entirely designed and developed in India.
This sporty ride will arrive in the first half of 2022 while expecting steep pricing of ₹3.5 lakh & onwards. Fame II subsidies don't imply to this sporty & performance bike as it is for affordable options. It will come with a claimed range of 150kms with a top speed of 147kmph, accelerating 0-100kmph in 7.5 seconds. The F77 is powered by an air-cooled, brushless DC(BLDC) motor with an output of 25kW & 450Nm torque on the rear wheel. The power comes from 3 slim and modular lithium-ion battery packs. The charging of the battery packs takes about 5 hours with a standard charger, and 1.5 hours with an optional fast charger.
The F77 uses a 4G sim as well as a 9-axis IMU which enables multiple connected features, along with providing a whole host of functionality within the TFT unit. It also comes with adjustable regenerative braking & dual-channel ABS, crash detection, vehicle tracking and emergency contact, geo-fencing, auto headlamp, and more.
It will be made available in 3 variants– Lightning, Shadow & Laser with 3 riding modes -Eco, Sport & Insane.
With high quality and a keen eye for details, this unique muscular-looking premium machine, sure is to garner a lot of attention, making it a fun, sharp, and responsive ride.
Emflux One
Banglore based start-up Emflux Motors promised us India's first electric sportbike at India Auto Expo 2018, which now has an expected launch of July 2022, with an estimated price of ₹5.5 lakh
Emflux One, a fully-faired electric performance motorcycle claims to accelerate from 0-100kmph in just 3 seconds, with a top speed of 200kmph. The bike comes with a claimed range of 200kms. The Emflux One is powered by Samsung's liquid-cooled AC induction motor linked to a lithium-ion battery pack that generates 72PS of peak power and a maximum torque of 84Nm. This bike can be recharged to 80% in just a half-hour using a fast charger.
The Emflux One has a long list of features, including a 6.8-inch TFT instrument panel with a built-in GPS navigation system, Bluetooth, wi-fi, real-time vehicle diagnostics, and a dedicated mobile app for remote customization and bike-to-bike connectivity. Emflux One STD is the only single variant that will be made available.
With good looks and good feature, let's see what the future hold for this superbike.
Hero Electric AE-47
Hero Electric AE-47 is expected to launch on 23 March 2022 in India with an expected price of ₹1 lakh.
This premium product from the homegrown electric vehicle manufacturer is said to have a claimed range of 160 kms on a single charge with a top speed of over 85kmph. AE-47 is powered by a lightweight, portable lithium-ion battery 48V/3.5 kWh which can be charged fully in 4 hours. It has a claimed acceleration of 0-60kmph in 9 seconds.
The AE-47 has 2 modes– Power & Eco. It comes with a host of features like a digital instrument cluster, keyless access, mobile charger, walk assist and reverse feature. It is also supported by a mobile app featuring GPS, GPRS, real-time tracking, and geo-fencing.
This muscular, sporty-looking ride is soon up for grabs in the Indian market.
Orxa Mantis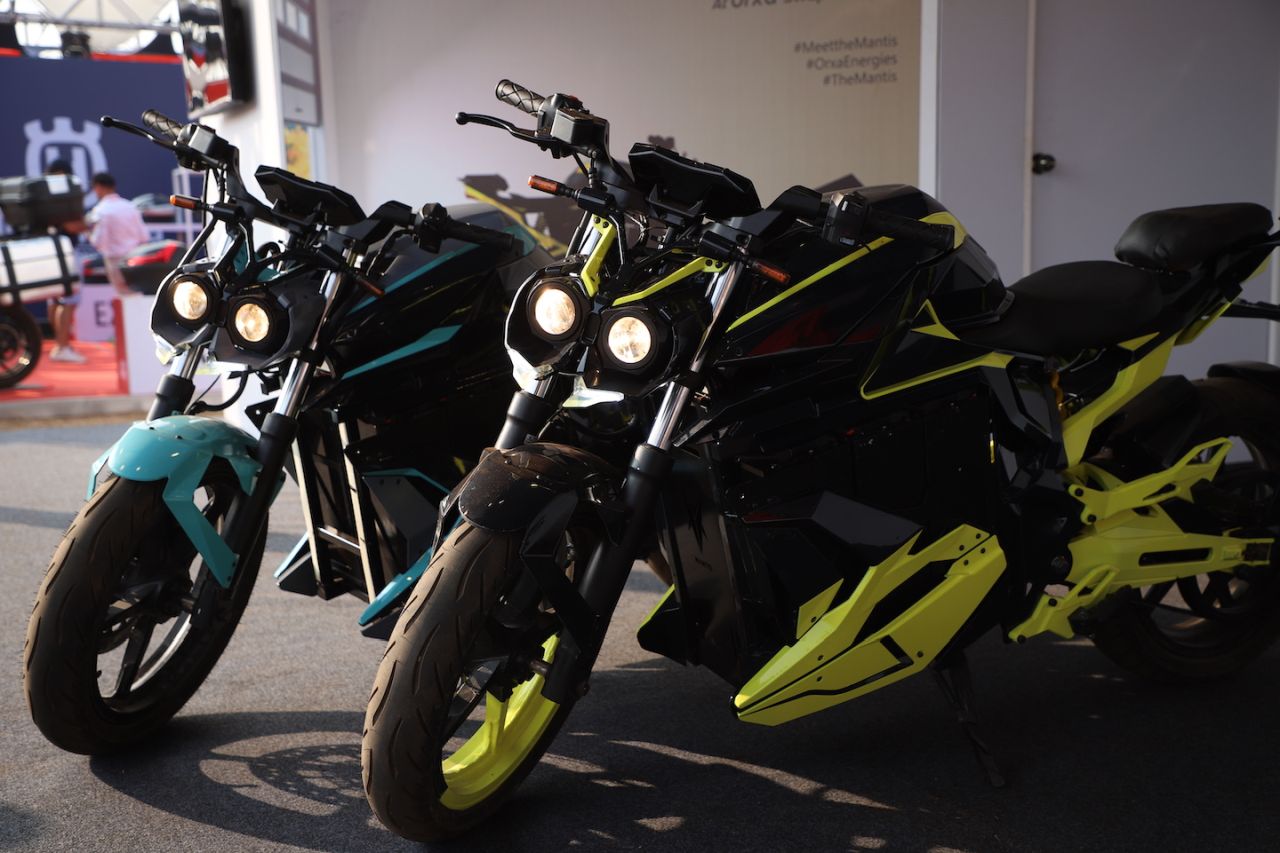 Going up against the Ultraviolette F77, Orxa Mantis is expected to launch in September 2022 in the Indian market, with an expected price of ₹3 lakh.
The Mantis electric bike will sport a naked streetfighter design which will have a 200km real-world range on a single charge. The 9kWh lithium-ion battery pack is a stack of 6 batteries that Orxa claims to have developed themselves. The batteries are modular and are swap ready. Using a 15A socket, the claimed charging time stands at less than 3.5 hours. The company claims impressive a 0-100kmph sprint in 8sec, with a top speed of 140kmph.
Mantis is extremely unique with almost absurd styling that draws inspiration from its namesake, the Mantis. It uses twin-pod headlights that resemble bug eyes, with underlying DRLs giving it a fang-like appearance. This bright coloured schematic motorcycle will certainly not go unnoticed on the streets with its rather aggressive and sporty stance.
Evolet Hawk
Evolet Hawk is a fully faired electric bike that is expected to be launched in India by July 2022 with an expected price of ₹1.25 lakh.
Evolet Hawk will come powered by a 3-kW brushless DC motor and 72 V 40Ah lithium-ion battery. The Hawk will have a claimed top speed of 80 kmph, with a range of 150kms on a single charge. It will take about 3-4 hours to get fully charged.
Evolet Hawk will offer a long list of IoT features using the Evolet mobile app. It will come housed with a full-digital instrument console, telescopic front forks, and mono-shock rear suspension. It will have 2 colour options- silver and blue.
Hawk is an attractive bike with a sporty design and sharp looks, ready to hit the EV motorbike world in India.
With the automotive industry going through a transitionary phase switching to alternative, less energy-intensive options of mobility with style and purpose makes the new entrants a prospective appeal in the Upcoming Electric Bike Industry in India.