Kia Motors Corp shares reach an all-time high when local media reports that Apple Inc will going to invest $ 3.6 billion. This investment is being made so that the company can produce electric vehicles.
South Korean shares jump for a third straight session, as auto shares were boosted by a reported 43.6 million deal between Apple and Kia. Even after the representatives from both establishments denied comment, Kia Motors Corp's shares still managed to rise. After the South Korean news outlet dongA.com reported the above without citing any sources. The share took a shot of about 14.5% on the day.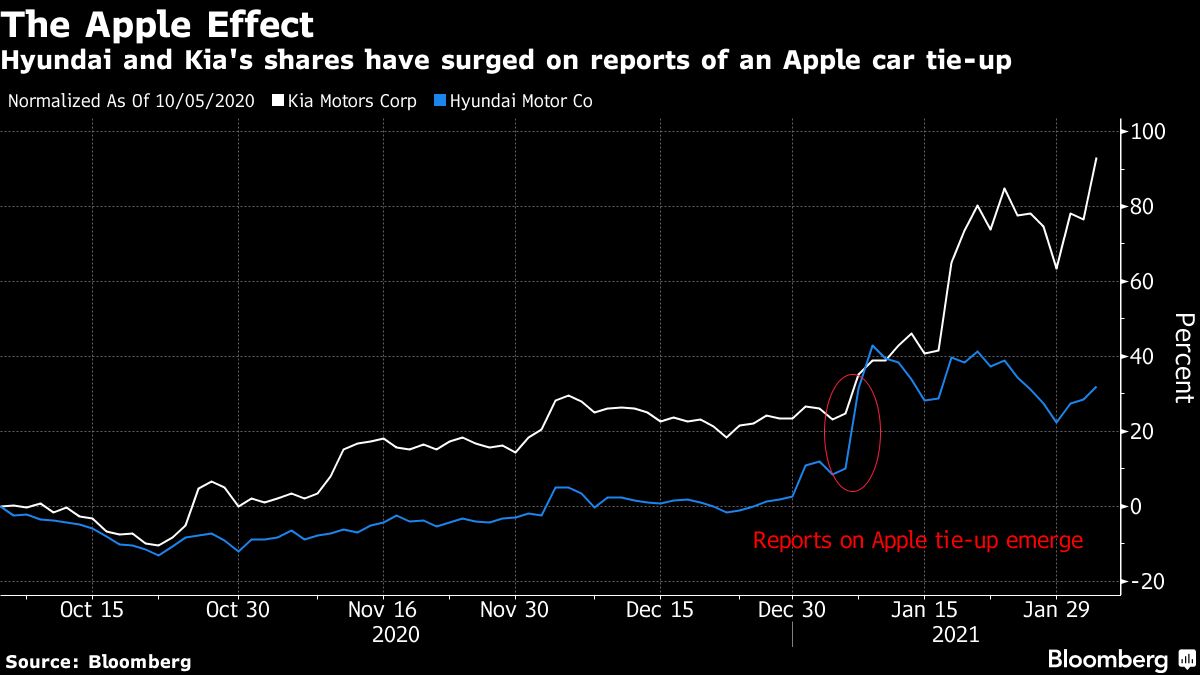 A media reports that Kia would be in charge of Apple's plan for this venture. Without citing any links, Kia said they were reviewing collaboration on self-driving electric cars with multiple private firms. The parent company of Kia, Hyundai Motor Group has decided that Kia will be in charge of the proposed project.
Both the companies may seal the deal on Feb 17 to introduce Apple cars in 2024 with breakthrough battery technology. The proposed plan has a full annual capacity of 400,000 vehicles.
Read Also:
They interpret that it takes about half a decade for the company to launch an autonomous electric vehicle with the experience and knowledge. The company is in no rush with partnership decisions.
Since it takes years to set up an establishment and cost billions of dollars, Apple is likely to talk with potential partners. Other technology companies also seek partnerships for expansion.
This collaboration would take a bite at Tesla Inc. Which delivered just about half a million units in 2020. Others like Lucid Motors and China's Nio Inc. Established manufacturers like Daimler AG and Volkswagen AG may also feel the heat.
Taiwanese iPhone assembler Foxconn Technology Group is setting up a venture with Chinese carmaker Zhejiang Geely Holding Group Co. They will provide production and consultation services to global automotive enterprises. Shares of Hyundai Motor were up by 1.7% outperforming the 0.1% gain in South Korea's broader stock market KOSPI.